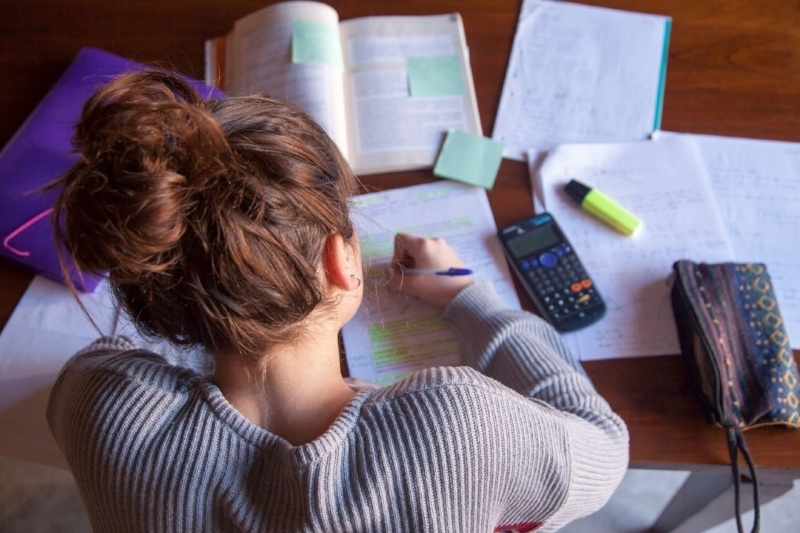 Did you know that every year colleges and universities, along with the U.S. Department of Education, award an estimated $46 billion in scholarships and grants?
Scholarships vary based on the amount awarded, geographic location, and eligibility requirements. Scholarships are also very diverse. There are graduate scholarship opportunities for everyone, no matter your gender, ethnicity, race, or where you attend school.
While finding scholarships that you're eligible for may take some time, it's so important to make the time to do so when you're figuring out financing graduate school. So, here's a list to get you started.

1. Archie Motley Memorial Scholarship for Minority Students:
If you're working toward a future career in archives, be sure to check out this scholarship. This graduate scholarship is awarded to a minority student who will be, or is currently, enrolled in a multi-course program in archival administration. This individual must possess a 3.0 GPA or better and be of African, American Indian, Asian or Pacific Islander, or Latino descent. This graduate student awardee will receive a $750 scholarship and a one year membership to the Midwest Archives Conference. For consideration, applications must be turned in by March 1, 2019.
2. The LAGRANT Foundation (TLF) Graduate Scholarships:
Are you a minority student studying advertising, marketing, or public relations? If so, you could be eligible for the LAGRANT Foundation (TLF) scholarship! Twenty full-time graduate students with a minimum of two academic semesters or one-year left to complete their master's degree will receive this scholarship worth $3,750 each. Scholarship recipients will receive a trip to Cincinnati, Ohio where they will participate in career building activities including a welcome dinner with a keynote speaker, two career & professional development workshops, and a scholarship & donor recognition reception. Students must have a minimum 3.2 GPA to apply. TLF will accept applications until February 28, 2019 so apply today!
3. Against The Grain Groundbreaker Leadership Scholarship:
If you are an Asian American and involved in bettering the Asian American community, you should consider applying for the Against the Grain Groundbreaker Leadership Scholarship! This scholarship provides financial assistance and promotion of Asian American graduate students who have exhibited exemplary leadership, vision, and passion that is blazing a trail for others to follow and changing lives in the Asian American community. The student selected for this scholarship will receive $1,500 to be applied toward school tuition and fees. Applicants must be at least 50 percent Asian and/or Pacific Islander, have a minimum cumulative GPA of 3.5, and submit a video presentation showcasing their work and qualifications. Against the Grain is accepting applications until May 7, 2019!
4. Beckley Area Foundation Scholarships:
West Virginia residents who are attending graduate school, pay attention! Each year the Beckley Area Foundation manages an array of scholarships that are available to students in the Beckley, WV region. Some scholarships are designated by field of study being pursued and university to be attended. And while others can be used at any university and towards any program, some are only awarded to students who attended a particular high school in the area.The majority of the scholarships are for recent high school grads or undergraduate students. However, every year there are graduate student scholarships offered as well.
5. Underwood-Smith Teacher Scholarship Program:
If you have plans to become an educator in the West Virginia school system after graduate school, be sure to apply for this scholarship. This scholarship is available to West Virginia residents that are undergraduate and graduate students. Students must be pursuing a teaching degree in pre-school, elementary, middle school, or secondary school and be enrolled in a college in West Virginia. This scholarship can be awarded for up to $5,000 and gives priority to juniors, seniors, and graduate students pursuing a degree in education. Award winners must have an interest in, and agree to, teach in West Virginia upon graduation. The deadline for this scholarship is March 1, 2019 and students must reapply every year.
6. The AAHD Frederick J. Krause Scholarship on Health and Disability:
If you have a disability and are currently pursuing graduate studies related to health and disability, this scholarship is perfect for you! This national scholarship is awarded annually to a student who wants to make a positive impact the quality of life of someone with disabilities. The scholarship awards the student up to $999 and will be given preference to a student with a history of community service and/or volunteer activities. Applicants must have a documented disability and provide documentation of their disability from a specialist. To be considered for the scholarship, apply before November 15, 2019!
7. ACHE Foster G. McGaw Graduate Student Scholarship:
Calling all graduate healthcare students! The Foundation of the American College of Healthcare Executives is offering scholarships to provide financial aid to students in healthcare management graduate programs to help offset tuition costs, student loans and expenses. ACHE awards up to 15 scholarships every year with each scholarship worth $5,000. Students must be full-time, entering your final year, and enrolled in a healthcare management graduate program – MHA, MPH, MBA in Healthcare Administration or similar. Applications are accepted between January 1 and March 31, 2019!
Need additional help financing your graduate degree? Check out our digital resource — A Guide to Financing Graduate School — and let us help you figure out how to fund your graduate education!