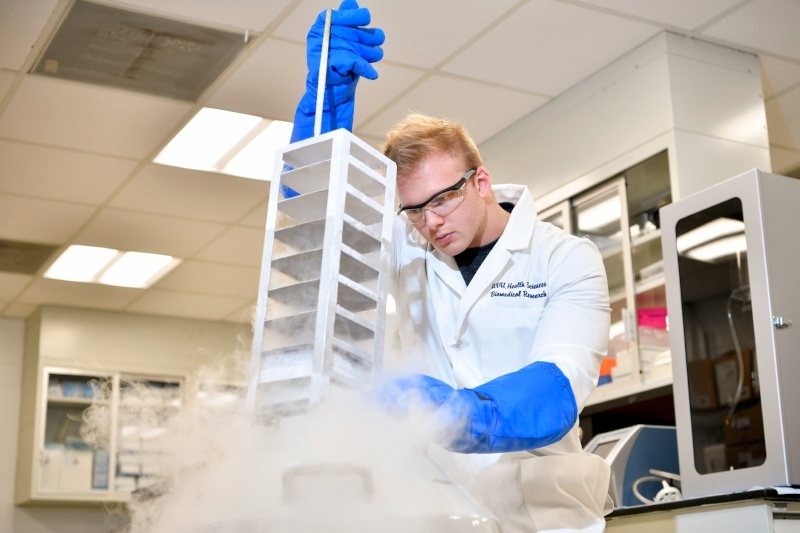 Quincy Hathaway is an innovator, a researcher, and a future leader in STEM. The Admissions Team at West Virginia University talked with him in order to understand his recent research grant from the American Heart Association.
Here's what Quincy had to say about his dedication to excellence and his biomedical discoveries.
Tell me a little bit about yourself. What's your name, age, and where are you from?
Quincy Alexander Hathaway, 25, and I am from Carmichaels, Pennsylvania. In high school, I wrestled, and in college, I competed in amateur bodybuilding shows. I play the piano and guitar for my local church, Greene Valley Church of God. I also have one brother and two sisters.
Where/in what did you pursue your prior degrees?
I received a BS in Biology and a BS in Environmental Sciences from Waynesburg University, Waynesburg, PA.
Tell me about your PhD program at WVU.
My PhD is in the Division of Exercise Physiology. I'm a 4th year graduate research assistant for Dr. John Hollander.
I am graduating in May and will pursue medical school in the fall of 2019.
During my 1st and 2nd years of graduate schooling, I applied for and was awarded, the IGERT (Interdisciplinary Graduate Education and Research Traineeships) Research and Education in Nanotoxicology at WVU.
This fellowship included community outreach, STEM education, and interdisciplinary research and collaboration in the fields of nanotoxicology and nanotechnology. For my 3rd and 4th year of support, I was awarded the AHA Predoctoral Fellowship.
Please tell me about the AHA Fellowship you were just awarded. What in particular are you researching within this Association?
The American Heart Association Fellowship was awarded to support the ongoing research in the Hollander laboratory to answer questions regarding cardiovascular disease, diabetes, and the role of the mitochondrion.
Specifically, my focus is on a protein called PNPase (Polyribonucleotide nucleotidyltransferase), which is located in the mitochondrial intermembrane space. We believe that PNPase orchestrates the transport of small RNAs into the mitochondrion, known as microRNAs, which becomes dysregulated during diabetes. My focus is also on the epigenetic control of PNPase during diabetes (basically how the protein is produced through environmental influences, such as high glucose or other factors of the diabetic pathology).
Ultimately, we want to understand how PNPase transports microRNAs into the mitochondrion and potentially, how therapeutic interventions with the protein could alleviate mitochondrial dysfunction found in type II diabetics.
Why do you think pursuing an advanced degree in a STEM field is important for people who want to
promote real innovation
in your field?
In order to truly understand the scientific process, it takes more than an undergraduate research experience and reading academic journals. Innovation of new, translational applications and discovery of novel biochemical processes involves a submersion into the culture, techniques, and rigor that comprise the biomedical sciences.
Real innovation comes from intimately knowing the area of research you are in and further asking the next set of logical questions that can bring you to new and unexplored regions of study; an advanced degree in the STEM field helps to set the premise for this type of thought.
Tell me about one faculty member who really made a difference in your education at WVU.
The Principle Investigator who I work for (Dr. John Hollander) has been a significant influence on the type and quality of education that I received during my graduate studies. Dr. Hollander has not only helped foster laboratory techniques, skills, and knowledge in the specific scientific discipline that I am in but has also promoted extracurricular experiences.
As an example, Dr. Hollander has been supportive of character defining activities, such as a recent mission trip to the Amazon rainforest and a bicycling excursion from Pittsburgh, PA to Washington D.C. Additionally, he has supported collaborative efforts across disciplines and fields with other faculty and promoted exploration into areas of research which he was unfamiliar with, such as epigenetics, bioinformatics, and machine learning.
What's your favorite thing about WVU?
My favorite thing is the atmosphere of the town and research community in the region. I enjoy the small city feel (with local hangouts such as Starport Arcade Bar) and pride associated with the school.
I also appreciate the relationships between academic (WVU), clinical (Ruby Memorial Hospital), government (NIOSH), and industry (Milan) that the community supports.
Join a community of aspiring STEM leaders at WVU!
We hope you'll request more information today! Also, if you have questions about the below topics, we have resources to help you there too!
As an aspiring STEM professional and leader, we invite you to explore our newest interactive resource — A Guide to Graduate Programs and Careers in STEM!