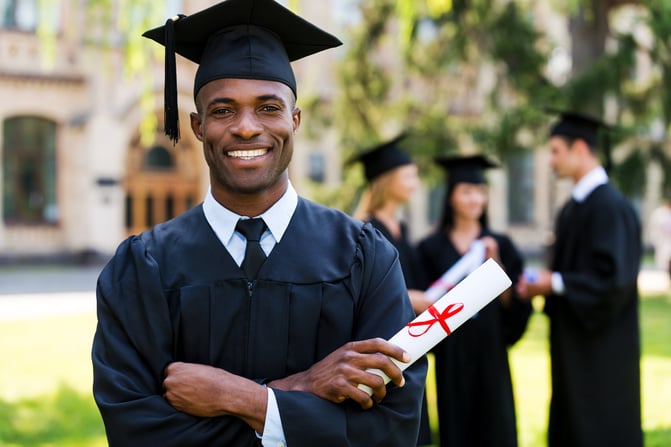 The rising cost of tuition.
The time it takes to earn a graduate degree.
The uncertainty about employment and salary post-graduation.
Is it all worth it for a master's degree?
We know there's a lot to consider when you're choosing a graduate school. It's not only a financial investment, but also an investment of your limited time and energy. That's why we want to give you some insight into three popular graduate degree fields and reveal what you need to know about the real ROI of Graduate School:
It's no surprise that business school graduates speak to the high return on investment for their MBA. Of course, it's important to factor in tuition costs at the business school of your choice as well as the salary you don't receive because you're attending classes full time. But an MBA opens doors for substantial salary increases over time, according to U.S. News and World Report, as well as equips you with sought-after soft skills that help you advance more quickly in your career.
On average, many business school graduates can expect a significant pay raise upon graduation with Post-MBA starting pay up 50 percent over Pre-MBA pay for full-time students, according to Forbes. Pursuing that MBA will pay off over time and give you more opportunities through networking and degree specialization that would not be possible if you only have an undergraduate education.
Education
If you're considering a master's in education, you can rest easy knowing that your investment in a graduate degree is worth the cost. The education field is projected to grow at 8 percent through 2024, according to the Bureau of Labor Statistics. Not just that – a master's in education will boost your pay significantly and widen the career options for you in the education field.
U.S. News and World Report says that those who have a master's degree in education receive about $23,000 a year on average more than those who only a bachelor's. When you consider a significant pay raise like that over the course of your career, you know you've made a wise investment in your own education!
Health Care
The health care field is exploding right now with more people needing medical care than ever before. Factor in the baby boomer population that's retiring from their careers in the health industry, and you're looking at a great opportunity to advance quickly in this desirable field. With a graduate degree in health care (from a master's in nursing to a master's in public health), you'll have a greater chance of choosing who you want to work for and where you want to live. That's because hospitals and health industries nationwide are in dire need of well-trained staff, especially those with master's degrees.
The graduate degree you earn will help you command a greater salary, too. For example, the average salary for those who have a master's in nursing is $95,000 for a clinical nurse specialist versus the annual $79,000 for a bachelor's level registered nurse, according to Nurse.com. That salary increase will more than make up for the cost of a master's degree over time, and you'll never have to worry about unemployment when you're in the healthcare field!
Graduate school is a big commitment that will pay off in the long run. Even if you're not considering one of the three fields above, it's important to note that the median annual salary in for those with bachelor's degrees is $59,124 (as of 2015). For those with master's degrees, the median annual salary jumps to $69,732, according to the Bureau of Labor Statistics!
Here at WVU, we know that financing graduate school can be a stressful notion, but when you're looking into graduate school programs, remember to consider the return on investment over the course of your career and the professional opportunities that will be open to you with a graduate degree.
You just might find that the benefits outweigh the costs!
Are you interested in pursuing an advanced business degree but have questions regarding what the actual return on investment will be? Check out our free resource: Understanding the Real R.O.I. of a Graduate Degree in Business!