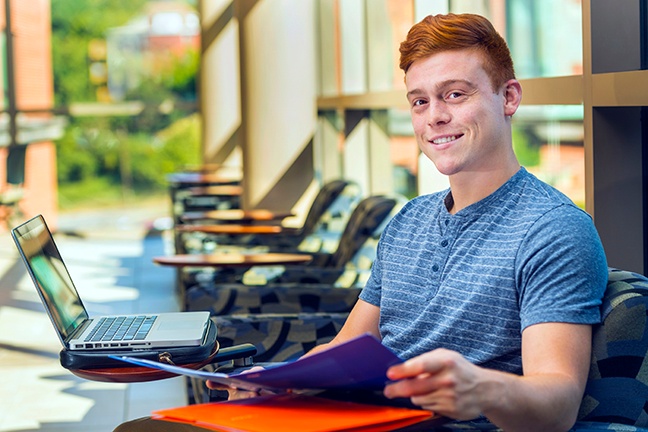 Graduate school is a great way to invest in your future. You further your potential by giving yourself a better chance to get noticed in today's job market, pursuing your interests in more depth, and making more connections.
Your graduate education is more than what you learn in the classroom — it's also the work experience you gain. One way to obtain work experience in graduate school is through a graduate assistantship. A unique experience during graduate years, graduate assistantships provide an excellent learning environment, exposing students to what it is like to be in the workforce (and will also help you in financing graduate school!).
The Admissions Team at WVU are here to teach you about the value of graduate assistantship and how securing a graduate assistantship can help you finance graduate school while boosting your resume with practical work experience. Here are three reasons why becoming a graduate assistant will be helpful as you pursue a graduate degree:
Graduate assistantships are offered through the university and take place within the university or off-site where the university has connections. Application procedures for graduate assistantships vary by school, but the process typically starts at least a semester before the start of the graduate assistantship.
"I know that many of the leaders at WVU that I have met and work with will make a difference in this world, in particular with the opioid crisis. I am confident that the skills I have gained in my graduate research assistantship at WVU will help me continue to make a difference." —Sara Warfield, Graduate Research Assistant, PhD in Public Health at WVU
1. You get to connect with professors and admissions staff, which will help you to grow your professional network.
From an educational standpoint, the benefits are fairly clear, but graduate assistantships can also provide you with a valuable network of contacts to look to for references and advice post-graduation.
A graduate assistant often works alongside professors or staff members. Mentorship is an important part of learning, whether you're in school or in your career — and it's a built-in part of becoming a graduate assistant. Not only does working with experts in their fields provide a great learning environment, but it also comes in handy after school when you're looking for references for job applications.
2. You get quality, practical work experience while getting your graduate degree.
Your education shouldn't be reduced solely to classroom time. In order to advance your knowledge and skill set, you need focused, applicable experience in your field. A graduate assistantship can offer you this experience because you'll have the opportunity to work with and learn from professors and other professionals in your field.
By shadowing a professional, you get to see firsthand what the field is like day-to-day. For example, being an Athletics Compliance Assistant at a NCAA university would give you the opportunity to work under the Director for Athletic Compliance. You get to know the ins and outs of what it is like to be the Director for Athletic Compliance by assisting in monitoring prospective student-athlete recruitment and student-athlete transfers, research rules interpretations, and learn how to use the NCAA Compliance Assistant software.
On top of that, you get to interact with student-athletes, athletic staff members, and other institutional staff. These interactions serve as an exceptional learning experience and allow you to expand your network.
3. You assist and learn from other students in your field.
In leading others, you have the opportunity to relay your experience in the field to others in hopes that they will be inspired to pursue your field. For example, as a Strength and Conditioning Assistant at a local high school, you might be responsible for developing and improving various teams' strength and conditioning programs, maintaining weight room facilities, marketing, communication between faculty and staff, and ensuring safety standards.
In this setting, you will be surrounded by younger, like-minded students. This opens the opportunity for not only you to gain experience by working with these students, but students to learn from you. Whether you are in the classroom or directly in the field, you have the chance to see what younger generations have to contribute to the field, essentially forming mentorships between you and those of the younger generation.
A graduate assistantship is truly a rewarding experience. Serving as support to some of the best in your field, getting a glimpse of what it is like to be a professional in the field, and building those who are the future of your field exemplify why a graduate assistantship is essential to your graduate education.
We invite you to explore our new digital resource page — Your Guide to Understanding Graduate Assistantships in Graduate School — for insight into the value of securing a GA position in grad school.