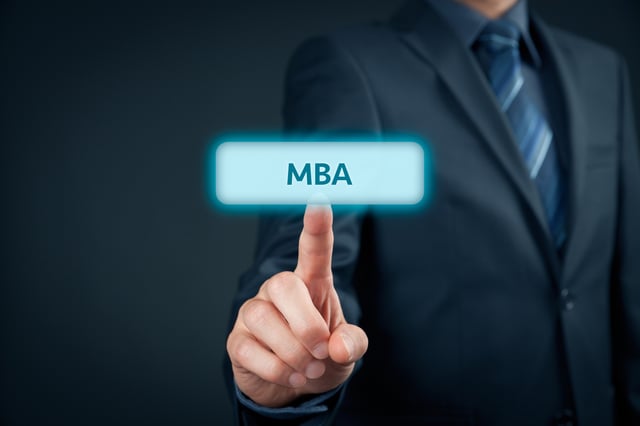 If you are considering getting an MBA, you have a few options to choose from. You can pursue a traditional, face-to-face program at a university, enroll in a fully online program, or you can select a hybrid MBA, which brings together the convenience of distance learning and the value of in-person networking and collaboration.
A hybrid MBA program allows for convenience and flexibility...
A hybrid MBA allows you to structure your degree around your personal life and academic schedule. Not everyone can or wants to stop working and move to a new city to pursue a graduate degree. A hybrid MBA makes it easy to continue to build your career while pursuing a degree that can help take you to the next professional level. And working while pursuing a hybrid MBA gives you the opportunity to immediately apply what you are studying to your current work context, reinforcing both your work performance and your learning.
Or maybe you are considering pursuing a MBA to help you get back into the workforce after taking a break to raise children or care for a loved one. A hybrid MBA program allows you to gain expertise without uprooting your family.
Whether you are working or preparing to return to work, you don't have to worry about fitting a class schedule around your work schedule or home life. Because most of the coursework is online, you can "attend" class or even take an exam at a time that makes sense for your schedule and lifestyle.
… and cost
A hybrid MBA program generally costs less than a traditional MBA program because you are using fewer on-campus or university resources. So you can get an advanced degree, maintain your work/home life and save money.
A hybrid MBA program still allows for face-to-face with faculty and peers.
So with all the convenience, flexibility, and cost-savings of online learning, why not pursue a fully online MBA? Well, facetime still matters, especially in the business world. In-person exposure to professors and peers helps to build a sense of camaraderie as well as a network of business contacts. Hybrid MBA programs generally include a few several-day, in-person sessions in which students engage in intensive learning with their instructors and peers. These on-site components allow for the in-depth conversations and informal interactions that cannot be replicated in an online environment.
And your peers are not limited only to those who are local or can afford to move to a university location. They can literally come from all over the world, giving you the opportunity to network with a nationwide or even international pool of business-minded professionals.
What are the potential concerns of a hybrid MBA?
Although online learning has become more acceptable, some employers may still buy into the myth that it is lower in quality or integrity. You may want to be prepared with some facts to assure employers and potential employers of the value of online learning, such as showing them this U.S. News & World Reports article discussing a study that found that online learning can "produce equivalent or better results" than pure face-to-face education.
The trade-off for the flexibility of a hybrid MBA program is that it can require more creativity to balance work/home life with your studies. It will be important to establish work and home routines that allow you to complete your studies but also to meet your work and home obligations, too. Consider proactively talking with your employer about the benefits of your advanced degree to help minimize any potential conflicts or concerns.
If you are trying to decide how to pursue your MBA while working or caring for others, consider getting the best of both the online and in-person options by enrolling in a hybrid MBA program.
West Virginia University invites you to check out the downloadable, free eBook —
Understanding the Real R.O.I. of a Graduate Degree in Business
for a look into the real value of an advanced business degree.