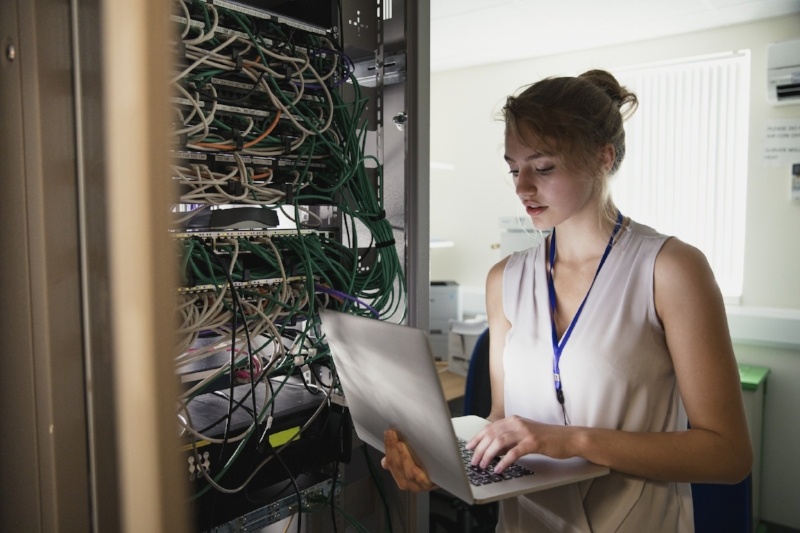 While having a liberal arts bachelor's degree does not necessarily exclude you from pursuing a STEM graduate degree, it does depend on which STEM discipline you'd like to pursue. For instance, some programs — such as Aerospace Engineering or Molecular Biology — have very rigid prerequisite requirements due to the nature of the material.
However, some advanced STEM education programs require applicants to hold a bachelor's degree but do not discriminate against non-STEM bachelor's degrees. Here are seven graduate degrees that are open to those making a career change.

1. Business Cybersecurity Management
The online graduate degree in Business Cybersecurity Management, offered through the WVU College of Business and Economics, gives students the skills they need to become cybersecurity professionals and to adapt to growing changes in security technology. The program provides a natural graduate pathway for students in computer science, management information systems and criminal justice.
Graduates of WVU's Business Cybersecurity Management program may be prepared for the following careers:
Computer Systems Analysts

Security Management Specialists

Information Security Analysts

Business Continuity Planners
2. Computer Science
The M.S. in Computer Science degree program qualifies a student to assume a professional role in industry or government, teach in a junior or senior college, or undertake advanced training toward a doctorate in computer science. The objective of the degree program is to produce graduates who have the knowledge, skills, and attitudes to thrive in a variety of career landscapes.
Graduates of WVU's Computer Science program are prepared for success in positions in:
Business

Research

Government Service

Further Professional Study
3. Business Data Analytics
The online M.S. in Business Data Analytics, offered by WVU's College of Business and Economics, equips students to develop expertise in statistical techniques, data mining, utilizing databases, and analytical tools. "Big data" is driving decision-making in businesses and non-profits and creating a demand for workers with data-analytic skills, which WVU's program will provide its graduates.
Graduates of WVU's Business Data Analysis program may be prepared for the following careers:
Quality Control Analyst

Business Intelligence Analyst

Computer Systems Analyst
Statistician
4. Forensic and Investigative Science
The M.S. in Forensic and Investigative Science program is unique in that it shares aspects of a professional education degree, while retaining a strong research component. Coursework focuses on advanced science classes including microscopy, trace evidence, pattern evidence, and laboratory management. Students also study professional communications, ethics, and laboratory management.
WVU's Forensic and Investigative Science program is dedicated to:
Research-Active Faculty
Student-Centric Philosophy
Contemporary Curriculum
World-Class Equipment
Superior Facilities
5. Civil Engineering
The M.S. in Civil Engineering at WVU is a great graduate degree for those who have little academic experience in engineering — but a desire to learn. This degree is research driven and focuses on contemporary methods of engineering analysis. With the help and guidance of a faculty advisor, students will tailor their graduate experience to fit their specific areas of interest.
WVU's Civil Engineering program focuses on four major areas of interest:
Environmental and Hydroelectrical Engineering

Geotechnical Engineering

Transportation Engineering

Structural Engineering
6. Nutrition and Food Science
At WVU, the M.S. in Nutrition and Food Science is preparing students to tackle the health and nutrition problems many are facing today. Students will have the opportunity to work with farm and agricultural animals as well as research issues in human nutrition. Upon completion of this degree, graduates will be well equipped to begin professional careers in the field of food quality and safety assurance — or as clinical or registered dietitians.
WVU's Nutrition and Food Science program prepares graduates for job titles like:
Clinical Dietician
Quality Assurance Manager
Laboratory Technician
Registered Dietician
7. Landscape Architecture
At West Virginia University, Landscape Architecture is a design and planning profession that applies both art and science to achieve the best use of land. Landscape architects design the setting for a variety of land uses ranging from residential to industrial development while providing stewardship for the natural environment. The profession has a special commitment to improving the quality of urban and rural life.
WVU's Landscape Architecture students can use their creative skills by:
Acquiring hand and computer graphic skills

Studying design theory

Studying site engineering

Applying the knowledge to a series of environmental design projects
WVU is excited to help you achieve your career goals!
We hope you'll request more information today! Also, if you have questions about the below topics, we have resources to help you there too!
As an aspiring STEM professional and leader, we invite you to explore our newest interactive resource — A Guide to Graduate Programs and Careers in STEM!